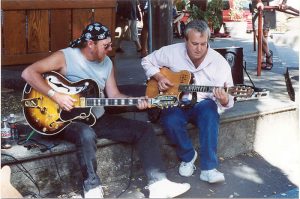 This space is home to some interesting pictures Michael has taken over the years. Here is one from this year's Healdsburg show, of Buster B. Jones and Michael. According to Micheal it was the "thrill of a lifetime."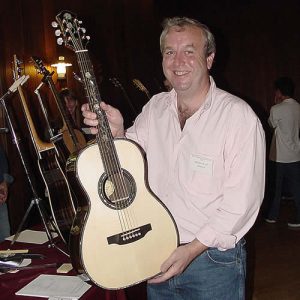 Here's a photo by Frank Ford, (taken just MINUTES after playing with Buster), of Michael beaming at the 2001 Healdsburg show.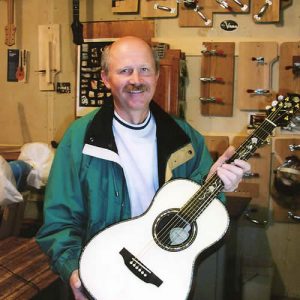 Here's a photo of Michael's: "My good friend and mentor for over 20 years, world class guitar maker Jim Olson stopped by my shop to check out one of my recent guitars" – Micheal. He is holding one of Michael's 25th Anniversary guitars. Jim's guitars can be found on his website.
Michael's Archives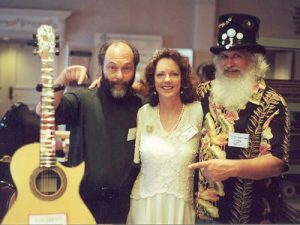 This picture is from a major show in Nashville where Grit Laskin has just delivered his long awaited, (five years!), custom guitar to the Duke and Dutchess of pearl at their exhibit booth. It was a $25,000 instrument! They were just seeing it for the first time as I walked up with My Camera. The moment was very special . It was one of the coolest guitars I have ever seen. Everyone was very happy."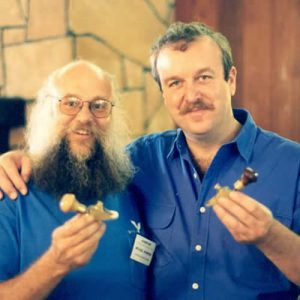 This is Michael Hornick of Shanti guitars, another very successful maker and a close friend. We had just bought the only two D'Aquisto archtop carving planes Linda Manzer had for sale. They are the finest planes I have ever held.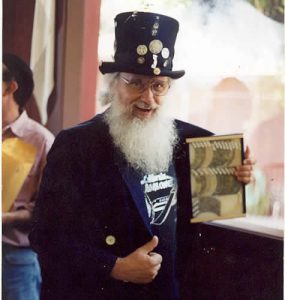 Would you buy pearl from this man?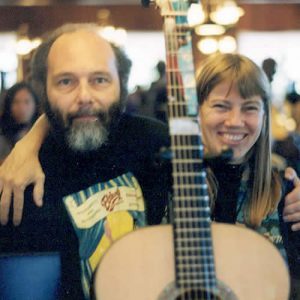 Two of the finest guitar makers in the world today who's work I deeply admire, William Grit Laskin and Linda Manzer smile for the camera at the Healdsburg guitar Festival.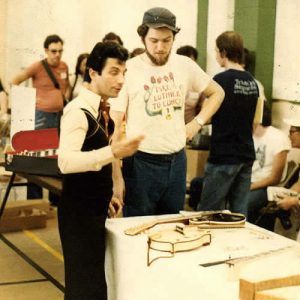 This is one of Jimmy D'Aquisto and Tim Olson at the 1978 Guild of American luthiers convention in Kansas. Jimmy was very famous and was the principal lecturer at the show. Here Tim Olson, who organized the show was walking around the exhibition hall with him talking to the builders. They had just walked up to my table.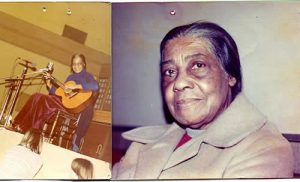 Here is Elizabeth Cotten, one of my favorite guitar players. She used to play in Portland quite often and I got used to seeing her many years in a row, and got to talk to her frequently. She wrote the song "Freight Train." I recorded several of her shows and made her copies at her request. The up close picture of Elizabeth is backstage before she went out to a concert. The other photo of her is in the concert hall.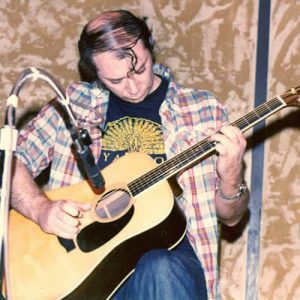 This photo is John Fahey in 1977 at a local concert hall where he used to play. I saw him dozens of times. I asked him if it was OK for me to take a couple close-up photos and he said, "fine, I don't care." He was playing some of the most beautiful music I had ever heard up until then. His guitar playing still deeply gets to me. He was a very important figure in the public's acceptance of solo 6-string acoustic guitar playing. His record company released one of Leo Kottke's first records.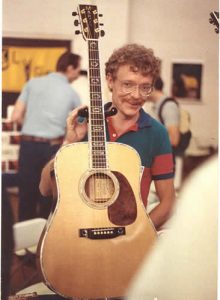 This is of C.F. Martin IV at a 1988 guitar Festival in Pennsylvania. The Martin guitars table was right across from mine. He was extremely friendly and a very warm person to meet. I asked him if I could take his picture and he wanted to get behind the beautiful D-45 for the shot. The guitar he is standing by had every single employee of the Martin factory work on it and all of them had their signature inside.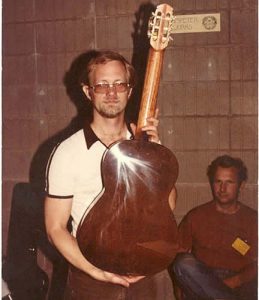 David Russell Young at the 1980 Guild of American luthiers convention in San Francisco. This is a strange picture!! He was well known at the time for having one of the only books in the world out on acoustic guitar making. I had his book and had used it on my first guitar. I walked by his table several times trying to get up the courage to ask him if I could look at the beautiful classical guitar on his table. It had the most beautiful spruce top and jet black ebony fingerboard and bridge. The tuners were engraved and 24 karat gold-plated with mother of pearl tuner knobs. It was finished beautifully. When I finally stopped and asked him if I could look at it he laughed kind of funny and handed it to me. When I turned it over and looked at the back and sides I realized why he had laughed. The back and sides of the guitar are made from particle board. The same stuff case makers use. just cheap, plain, particle board. Everything else was like a world-class classical guitar except the back and sides. I don't know. Ask him why. It sounded really good. I think he was trying to make the point that Bob Taylor made with his pallet guitar. It's not the materials; it's the maker.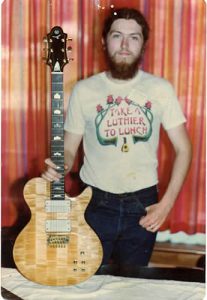 This picture is of Tim Olson in 1977 at the Guild of American Luthiers convention. Tim is one of the more important people in the world who has helped develop the art of instrument making through his editorial operation of the Guild of American Luthiers. Few people in the world have had the impact he has had. He used to make guitars. He also had a giant band saw and used to cut all my guitar tops for me. This is one of the few guitars he made before the Guild took over all his time. He even printed his own T shirt and sold copies of it. I had one for a while.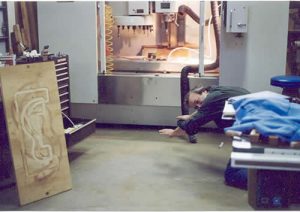 Jim Olson took this picture of me in his shop several years ago. Jim had just spent the day showing me many marvelous things that his Fidal 4020 would do and damn, was I impressed! I mean really impressed! I want to the world to know where I stand, (or should I say kneel), on the issue of CNC milling machines for guitar makers. That's me on the floor in front of the machine!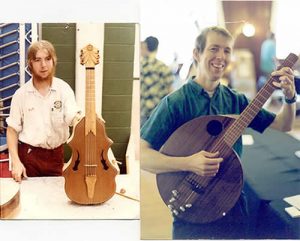 Fred Carlson is one of the most highly original makers that I have come across. The picture at left is Fred at the Guild of American luthiers 1978 convention. It shows clearly that he was on this path many years ago. The picture on the right is Fred at the 1997 Healdsburg guitar Festival holding one of his newest creations, the dreadnaughtilus. Note the tuners in the top and no head stock. I have always liked Fred's work and love to see anything he has made. At the Guild show one of Fred's guitar playing buddies, big Blue Harold showed up. you had to be there… He sang Devil's stole my bacon blues. Long may he build.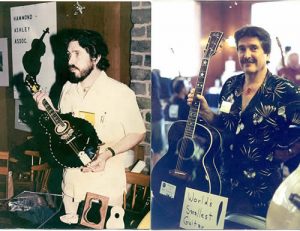 One of my oldest friends Robert Steinegger, I met him when I was making my first guitar in Portland Oregon. There is so much in these two pictures to tell you about. The picture on left the mandolin Bob is holding he had just taken out to show me. It was the day before opening show at the 1980 Guild of American luthiers convention in San Francisco. I had not seen Bob since he helped me load my shop and house into a truck a year earlier and move to Minnesota. During the actual loading I gave him a large beautiful chunk of red cedar as a parting gift. Here I was a year later he was showing me the mandolin he had made with the wood I gave him. it's a copy of an Orville Gibson 1904 original. I wanted to take a picture and backed up to focus; I heard Bob say "My God it's David Grissman." That is what he is saying just as I snapped the picture. David's band was playing that night for the Guild show and he had come down with the band to see the instrument makers. David bought the instrument on the spot. If you look closely in the lower left corner you will see the smallest guitar in the world it's laying there on the White piece of cloth. To the right of it is Bob's next size guitar up in scale. It's under construction. Note the Mr. peanut pen in his pocket. In the picture on the right, Bob is showing me Phill Everly's custom guitar and if I'm not mistaken he even made the beautiful Hawaiian shirt he is wearing. Paul McCartney and George Harrison along with dozens of others own Steinegger guitars. It has been an honor to know him as a friend from many years.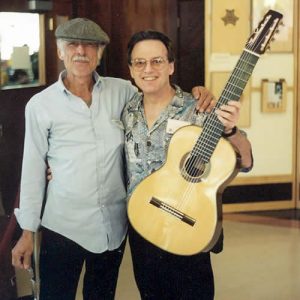 Here are Eugene Clark and Jeff Elliott, two of the most amazing makers in the world today. Eugene has an ear for tone and has done years of research on the sound of fine guitars. Jeff Elliott builds some of the finest guitars in the world today and I am proud to say was my first teacher. They are both profoundly warm and generous people and we are all lucky to have them alive and building today. They are setting some of the finest standards in the world today. They are both known for their generous sharing of their knowledge and time. This is one of the pictures I'm proudest of. I want to be a line with these guys historically, (in my dreams!)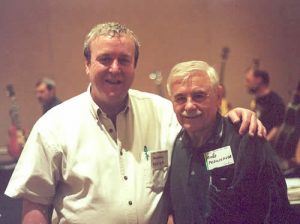 This is me and one of my early hero's Bozo Podunavac. I had known of him for years and almost bought a guitar from him when I was 19. I had admired his work for years and never met him. At a show in Nashville Tennessee, when I walked in to set up my table there he was! I was so happy to meet him. I could not believe it and there he was with his beautiful wife. setting up their guitars right next to mine. It was so cool. I complained to him and his wife how lousy the food was at the show restaurant and to my surprise each morning Mrs. Podunavac would leave fruit on my table. Next time I see them she gets flowers.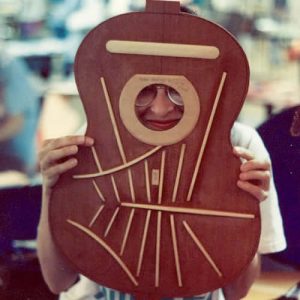 This is a picture I took of Gila Eban, she was showing me her latest, Kasha/Schneider braced guitar top at a 1990 guitar show. What can I say? this picture seems really hysterical. It's great to see more women doing world class work in a field dominated by men. This is what we look like to a guitar.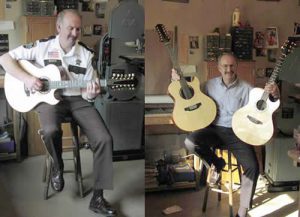 This customer of Michael's knows… at rest or play, he has the right accessories for the moment…. Steve Borchardt, Olmstead County Sheriff with his Keller guitars…